Each month on the 16th I start a new challenge over @ Gottapixel called Rock Your Desktop. If you haven't checked it out you might want to give it a look-see!

Personalised desktop images are beginning to be very popular with the scrapping community as another way to display and share your work with family and friends. PLUS you have something gorgeous to decorate your background all month. I've offered freebies of desktoppers before, but this takes one step further and prompts you to make your own unique desktopper. The challenge always is to create a desktop for the following month. As an added incentive, every participant recieves a $3 coupon to spend in my store at the end of the challenge. (A great idea for new scrappers to try something new and build up some scrapping supplies)

--There are over 20 products in the store to choose from that are $3 and under or alternatively you can use the coupon to effectively cut a full kit price approximately in half. Products in this price range are constantly being added.--

The prompts each month change to focus on different scrapping techniques.

This month's is a sketch with the focus being a series of photo frames.




Here is my take on this month's challenge: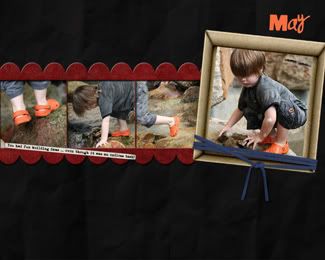 credits: Cherie Shields "It's in the Stars"

There are quite a few layouts posted in the gallery already!

So why not try it this month? I'd love to see your take on the challenge :)